Jujube Unveils Exclusive Rainbow Dreams Collection
Jujube Unveils Exclusive Rainbow Dreams Collection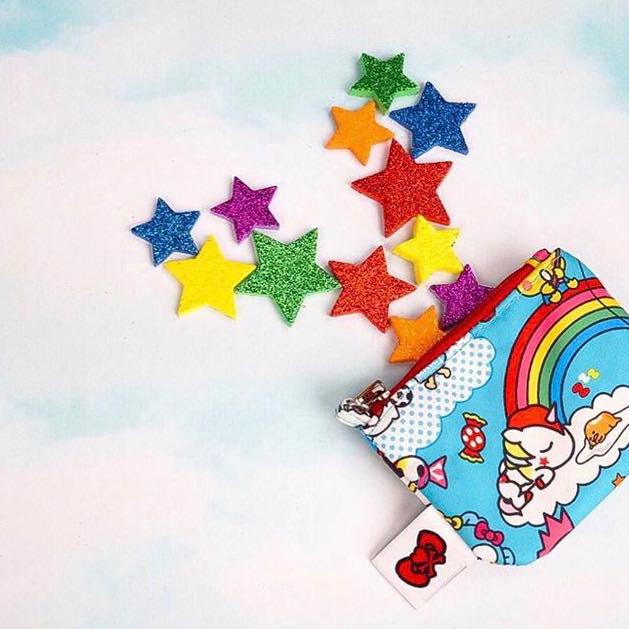 Ju-Ju-Be Unveils Exclusive tokidoki x Sanrio Collection: Limited-Edition "Rainbow Dreams" Available December 5th
COSTA MESA, Calif,  November , 2017– The function-meets fashion bag company Ju-Ju-Be is set to release the never-before-seen limited edition print "Rainbow Dreams" on Tuesday, December 5th, 2017 – the latest addition to its' collaboration with tokidoki, the pop-culture brand meaning "sometimes" in Japanese, and Sanrio, the global lifestyle brand best known for the beloved pop icon Hello Kitty®.  "Rainbow Dreams" will be showcased on a number of Ju-Ju-Be's most popular fun and functional bags and accessories, including backpacks, diaper bags, wallets, bibs, totes and a duffle, among others.
We've found the pot at the end of the rainbow, and it's filled with tokidoki and Sanrio gold! The newest tokidoki x Sanrio x Ju-Ju-Be print is modern and whimsical while simultaneously invoking childhood nostalgia. Set against a sky-blue background, your favorite tokidoki and Sanrio characters frolic happily in friendly skies. Spy sweet Donutella and her donut balloons, floating past polka-dotted clouds. Watch Sanrio friends slide down rainbows with colorful Unicornos. And don't forget Hello Kitty, who is waiting to brighten your day with a bouquet of flowers. Think it can't get any cuter? A quick unzip reveals the rainbow lining dreams are made of!
In 2012, Ju-Ju-Be launched its first collaboration with tokidoki, and the two companies have since released a number of successful collections together.  Nearly three years ago, Ju-Ju-Be and Sanrio introduced their very first collaboration -- a line of Hello Kitty diaper bags, backpacks, and other accessories. "Rainbow Dreams" is the second time all three companies have collaborated to release a limited-edition collection.
About Ju-Ju-Be®
Ju-Ju-Be was started by the dynamic duo of diaper bags. Despite the great fashion (and even some great features) of the other brands, there were still some things lacking. No one had put to use the latest in technology. No one had successfully acted on the idea that fashion and function are not mutually exclusive. No one else had delved into the deep realm of microbes and anti-stick coatings. Everyone else said that diaper bags aren't rocket science. Ju-Ju-Be thinks they can be. Along with being a lot of fun! Ju-Ju-Be has donated more than $100,000 to various foundations that are committed to raising breast cancer awareness. Ju-Ju-Be bags are available at premium boutiques everywhere.
About Sanrio®    
Sanrio is the global lifestyle brand best known for pop icon Hello Kitty®, who celebrated her 40th Anniversary in 2014. Home to many endearing characters including Chococat® My Melody®, Badtz-Maru® and Keroppi®, Sanrio was founded on the 'small gift, big smile®' philosophy – that a small gift can bring happiness and friendship to people of all ages. Since 1960, this philosophy has served as the inspiration for the broad spectrum of unique products and experiences.  Today, more than 50,000 Hello Kitty-branded items are available in over 130 countries and upwards of 15,000 U.S. retail locations including department, specialty, national chain stores and Sanrio boutique stores. For more information please visit www.sanrio.com and www.facebook.com/hellokitty.
About tokidoki®
tokidoki, which translates to "sometimes" in Japanese, is an internationally recognized and iconic lifestyle brand based on the vision of Italian artist Simone Legno and his partners, serial entrepreneurs Pooneh Mohajer and Ivan Arnold. Since debuting in 2005, tokidoki has amassed a cult-like following for its larger-than-life characters and emerged as a sought-after global lifestyle brand. tokidoki offers an extensive range of products which include apparel, handbags, cosmetics, accessories, toys and more. Simone Legno, tokidoki's creative director, was born in Rome, Italy and from a very young age developed a deep love of Japan and a fascination with world cultures. Combining Legno's unique talent and creativity with Mohajer's business acumen, tokidoki has grown exponentially. As an innovative company, tokidoki is known not only for its eye-popping aesthetic and criminally cute characters but also its megawatt partnerships. For more information, please visit www.tokidoki.it.